Welcome to the Scioto Valley Local Schools band website, home of the Piketon Rockin' Redstreak Bands. Comprised of students in grades 6-12, the band program offers students an exciting and fun activity in which to grow and develop musically and socially. Students within the program perform music in several settings, such as marching band, concert band, pep band, and many others. As a result of their involvement in the program, Redstreak Band members leave school as leaders, as well as role-models for the younger students within the program and the community.
Performing in such venues as regional band festivals, community parades, football games, home basketball games, concerts, collegiate sporting events, etc., has made the band program one of the most visible and well-known activities within the school and Piketon community, as well as within southern Ohio.
We hope you take the opportunity to visit the many pages of our website. There is information concerning all aspects of the band program, from beginners to high school, information concerning the directors, performance opportunities, and schedules for each band. In addition, photos and sound clips are available for your perusal. We hope that this website gives you a small glimpse into the life of the Scioto Valley Band Program and we encourage you to attend our events and experience them for yourself.
Todd A. Peitz
Director of Bands
Senior Class Advisor
(740) 289-2254 ext. 11051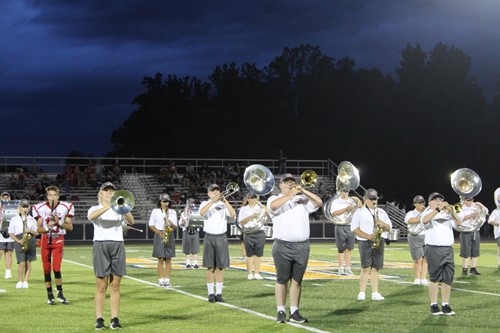 The Piketon Band at the first football game at South Point, Ohio.